Hawley Family History
This book was compiled so that all the children of the Hawley-Faulkner family would know more about their ancestors. We hope that all who read this will feel that they know and understand their grandparents, parents, aunts, uncles, and cousins a little bit better. We would like to thank each person who contributed to this book and made it possible. A special thanks to Fitz and Elsie Hawley, Pearl and, Gladys Hawley, Elsie Dwyer, Ethel Hawley, and Ethel Hawley Casebolt who supplied much of the information and to Kay Keplinger Kelly who did the typing. Also, thanks to our cousins in West Virginia who helped us out and to Greta Faith of Tulsa who sent us a copy of The Faulkner History
.
| | |
| --- | --- |
| | Dorothy Hawley Keplinger |
| | Waunita (Nita) Hawley Brunton |
| | Carl Hawley |
April,1982
MARGARET LUVENA FAULKNER
Margaret Luvena (Maggie) Faulkner was born on December 2,1862, in Mercer County, West Virginia. Her parents were Gordon F. Faulkner and Ann Elizabeth Payne. She was one of the older children in a large family. Gordon had twenty-one children, thirteen by his first wife and eight by his second. The last baby was a boy whom they named Twenty One.
Maggie learned to spin and weave and the usual housekeeping chores as she was growing up. On July 31, 1882, when she was twenty, her mother died. Her father remarried almost immediately. Maggie recalled that it was raining when her mother died. The casket was hauled to the cemetery in a farm wagon. The wheels of the wagon left deep ruts in the yard. Three weeks later when Gordon brought home his new wife, Rhoda Farley, the ruts were still in the yard. Rhoda was 28 years old and a good woman but Maggie was unhappy about her father's remarriage. She was especially close to her youngest brother, Early. She had assumed most of his care and he seemed like a son to her.
In 1884, Winfield Scott (Wing) Hawley asked Maggie to marry him. Wing was twenty years older than she and a widower. Maggie consented to become his wife and they were married on August 28,1884. They took little Early to live with them. Maggie told her children years later about her wedding day. She, Wing, and Early had moved into their home. That evening as darkness approached, Early, who was almost three, came to her, tugged on her skirt and said, You ain't gonna let that man stay all night, are you?
Maggie and Wing lived on a small farm. Wing was an excellent marksman so he always provided an abundance of meat for the table. Their first child, Charlotte Ann, was born in 1885. In 1886, Robert Lee was born. Then came Luther, Conrad, Ella, a set of twins, Cora and Nora, Jennings, and Fitzhugh. In 1900, there were nine children, five boys and four girls.
Maggie and Wing decided to move their family west. Maggie's sister, Ella, and her husband, George Barger, had already moved their family to Kansas in 1891. The Hawleys sold most of their possessions, packed only the necessary items, and went by train to Rugby, North Dakota. They had heard that rich, fertile land could be obtained there.
The family did not do well in North Dakota. Little Fitz became ill with measles and then meningitis. They feared for his life but under Maggie's tender nursing, he lived, but was left crippled. She thought he would probably never be able to walk. Then in July, a new baby was born. Wing delivered his new daughter, Elsie, in the dugout where they were living. It was a dry summer and the crops did not grow. The family became dicouraged and in September, they decided to move to Kansas where the Bargers were living. They went by covered wagon. It was a long, hard trip for Maggie with little Fitz and the new baby to care for. The older children helped with the work. After 54 days on the road, the family arrived at the Barger home south of Cambridge.
Wing rented the house on the Asbury farm for three months. They lived there until March. Then they moved to the Carr farm south of Cambridge. They were living here in March of 1902 when Maggie received word that her brother, Early, had been killed.
He had gone to Oregon City, Oregon and was working in a paper mill where the accident occurred. His body was shipped back to West Virginia for burial. To Maggie, it was like losing her own son.
In October of 1903, Maggie gave birth to twin boys, Pearl and Earl, This completed her family, seven sons and five daughters. In 1907, the Hawleys moved to the Weaverling farm where they were to remain for the next 14 years.
Maggie received some of her brother's insurance money. With this she purchased a loom for weaving rugs and a new kitchen wood stove. The stove was a beautiful blue color and Maggie kept the silver parts gleaming by polishing them with old newspapers. She started weaving rugs both for her own use and for other women in the community. old rags were cut in one inch strips, sewn together and wound into balls. These were used in the rugs. She could weave rugs three feet wide. Three pieces could be sewn together to made a 9 x 12 carpet. At first she charged 10 cents a yard for her rugs with the customer furnishing the rags. This price was later raised to 25 cents.
The Hawleys were a very hospitable family. There was usually someone staying with them or stopping by for meals. One of these boys, Albert Cecil, later wrote these words about Maggie.
"Grandma Hawley was the finest, sweetest woman I have ever known.
She loved her boys and all other boys who happened to come her way.
Any migrating cowboy or farmhand in the country knew a meal
was always ready for them at Grandma Hawley's."
In 1921, Maggie and Wing, with Pearl and Earl, moved in with their son, Pete, on the Branson Ranch. Wing was 79 years old but in good health. In June of 1922 he died from a ruptured appendix. Maggie and the boys remained with Pete until March of 1923 when they rented the Brown place and moved there.
Maggie was a deeply religious woman. She was baptized and united with the church at the age of nineteen. At Cambridge. she placed her membership in the Presbyterian Church. In 1927. when her young son. Earl. went to California. she was very concerned about him. She stood outside in the yard. lifted her eyes to heaven. and prayed to God to watch over her prodigal son and bring him safely home.
Maggie was close to two of her sisters. Ella Barger and Nannie Hypes. Nannie and her husband came to Kansas in 1925 and remained for two or three years. The Hawleys. and Bargers lived close enough to each other that they were able to have numerous family get-togethers through the years. Ella died in October of 1926. Maggie continued living with her son, Pearl. until he married. Then in 1927. she moved with her sons. Fitz and Earl, to the Doherty place. It was also in 1927 that Maggie lost her son~ Conrad. He died from the accidental discharge of a loaded gun.
In 1929. her son, Bob, and his wife, Maude, took her back to West Virginia for a visit. They stayed all winter and came back the following May. This was her first trip back home since she had come to Kansas in 1900.
Maggie's health began to fail. She went to stay with her daughter. Charlotte Hillier. After an illness of several weeks, she died on April 30. .1931. She was 68 years old.
Funeral services were held at the Presbyterian Church and burial was in the Cambridge cemetery .
| | | |
| --- | --- | --- |
| Gordon P. Faulkner | | Ann Elizibeth Payne |
| B: 6/30/1837 | | B: 9/9/1838 |
| M: 2/4/1858 | | D: 7/31/1882 |
| D: 3/21/1896 | | |
| | | |
| 1. Fielding Edward Faulkner | M: Octavia Belcbe | Nine Children |
| (1858-1915) | (1862-1932) | Verna (Calfee), Callie, Cora, Clyde, |
| | | Bob, Howard, Jody, Eldridge, Watson |
| | | |
| 2. Nannie Faulkner | M: George Hypes | Three Children |
| | | Bethel (Bowles), Frank, Baulah (Helcher) |
| | | |
| 3. Sarah Ella Faulkne | M: George Barger | Twelve Children |
| (1861-1926) | | |
| | | |
| 4. Margaret Luvena Faulkner | M: Winfield S. Hawley | Twelve Children |
| (1862-1931) | | |
| | | |
| 5. Thea L. Faulkner | M: Jenny Bailey | No Children |
| (1864-1917) | | |
| | | |
| 6. Vintson Calvin Faulkner | M:Sarah H. Poe | Five Children |
| (1867-1947) | (1873-1922) | Clarence, Etta (Ramsey), Arthur, May |
| | | Pearly (Helmandollar) |
| | | |
| | | |
| --- | --- | --- |
| 7. John Tip Faulkner | M: Sarah Lou Belcher | Two Children |
| (1869- ) | Hettie Fanning | Genevieve (Frazer) |
| | (2nd Wife) | Vanita (Johnston) |
| | | |
| 8. Luther Faulkner | | |
| | | |
| 9. Spencer Faulkner | | |
| | | |
| 10. Joseph Kelly Faulkner | M: America E. Poe | Six Children |
| (1874-1923) | (1879-1964) | Elsie Elizabeth (Poe), Oaka Thoms, |
| | | Jeanette(Osborne), Beulah(Davidson), |
| | | Melvln, Isabella (1916-1918) |
| | | |
| 11. Willie Faulkner (1876-1879) | | Died with Measles. |
| | | |
| 12. James Earley Faulkner | | Died in a sawmill accident |
| B: 8/17/1878 | | in Oregon City |
| D: 3/20/1902 | | |
| | | |
| 13. Infant Girl ( Unnamed ) 1880 | | |
| | | |
| 14. Benjamin Faulkner (1881-1898) | | Died of Diphtheria |
| Second Wife: Rhoda Farley | B: 1854 M: 8/24/1882 | |
| | | |
| 15. David Faulkner B: 6/30/1883 | 16. Virginia Faulkner Whinney | 17. Della Faulkner Vaughan (1886-1951) |
| | | |
| 18. Maude Faulkner | 19. Fannie Faulkner Bailey | 20. Grace Faulkner Steele |
| " | " | " |
| 21. Twenty One | " | " |
Huqh Morrison Faulkner was born 1816 at Price Fork, Montgomery Co. , Va. , died at Roanoke, Va. 11/13/1883, buried 3 miles north of Bluefield. Also lived at one time in Red Oak, Mercer Co., W. Va. Married Susan Helvey born 1817 in Va. (daugher of Paulsey Helvey and Sally Francisco, daugher of Peter Francisco, giant of Revolutionary War fame) .They had eighteen children. Gordon was second child.
Thomas Morrison Faulkner was born about 1785 in Orange Co., Va. and died in Montgomery Co. Va. 3/8/1830. Married 10/14/1811 to Elizabeth Jones (born 1788, dau. of James Jones. died in Montgomery Co. Va. after 1855). To them were born 7 sons. Huqh Morrison was second son.
John Faulconer, born 1754, Spotsylvania, Montgomery Co. Va. He died Aug. 8, 1826 in Orange (Montgomery) Co. Va. He was a large landowner, planter and slaveholder. He served as a soldier in the Virginia Militia during the American Revolution 1776. Married Jan. 16, 1775, to Margaret Morrison (born 1754, died 1826, dau. of Findley Morrison). Born to them were 11 children, including Thomas.
William Faulconer was born about 1725. He died May 28, 1778 at Orange Co., St. Thomas Parrish, Va. He married Priscilla Spencer and their children were:
Lucy
Nicholas born 1735 - Revolutionary War soldier
John born 1754 - Revolutionary War soldier
Johnstone born 1759 - Revolutionary soldier
Will of William Faulconer: County of Orange, Parish of St. Thomas, being at present sick...15 Nov. 1777, all my estate be kept together during the life or widowhood of my wife, Priscilla Faulconer, my beloved wife and children to live upon it together. After my just debts are paid, she raise and educate my children upon said estate, the said estate be equally divided between by said wife and children: Lucy, Nicholas, John and Johnstone. My well beloved friends, William Johnston and Talliferro Craig Jr., executors. Witnesses: James Jameson, John Brown, Mary Brown, on 28 May 1778.
Presented to court by W. Johnston, proved by Jameson Brown, Toliver Craig refuses to act. Other exec. entered into bond in sum of 2,000 lbs. (Quite an estate for that day.)
The above information was taken from The Faulkner History by Peggy Grace Faulkner Sersain, 1973.
WINFIELD SCOTT HAWLEY
Winfield Scott (Wing) Hawley was born in Montgomery County, Virginia, on June 17, 1842. He was one of nine children of John and Charlotte Hawley. At the age of eighteen, he enlisted in the Confederate Army and served four years. He was wounded seven times , twice being shot and five times wounded by the bayonet. He was for ten months a prisoner of war in a Union prison, at the end of which time he was exchanged. He made a vow during the war that if the Yanks won he would never shave again. He wore a full beard for the rest of his life. He lost two brothers in the war, Bill and John. His other brothers were James, Charles, Joseph, and Radford. His sisters were Etoley and Mary Julia.
Wing was married to Mary Jane Broyles Hambrick in 1866. She was a widow with two children, John Hambrick and Harriet Hambrick Murrell. They had no children but he was a true father to her children. Mary Jane died in 1880.
On August 28, 1884, Wing was united in marriage to Margaret Luvena (Maggie) Faulkner, daughter of Gordon and Ann Elizabeth (Taylor) Faulkner, in Mercer County, West Virginia. Nine children were born while the family was living in Mercer County--Charlotte Ann, October 29, 1885, Robert Lee, November 15,1886, Luther Cleveland (Pete), August 13,1888, Conrad N., December 31,1890, Sarah Ella, December 17,1892, twin girls, Cora Jane and Mary Nora, March 13, 1895, Jennings Bryan (Jinks), March 22, 1897, George Fitzhugh, (Fitz), August 31,1898. While in West Virginia, Wing farmed a small acreage and had sheep. He hunted and fished for food for his family.
In the spring of 1900, Wing and Maggie sold all that they had in West Virginia. They had heard that North Dakota was the land of opportunity, a virtual paradise In May the family went by train to Rugby, North Dakota to make a new start .Wing was 58 years old and Maggie was 38. A new daughter was born here on July 23,1900. Elsie Marie was born in a dugout and delivered by her father. It was here also that two-year-old Fitz became ill with measles and then meningitis. He recovered but was left crippled.
The family was disappointed in North Dakota. The summer was dry and crops did not do well. About all they had to see them through the winter were turnips.
In the fall, Wing decided to move his family to Kansas to escape the harsh Dakota winter. They made the trip in a buggy, a spring wagon and a covered wagon. Setting out in September, they arrived at Cambridge, Kansas 54 days later.
At first they lived with George and Ella Barger, Maggie's sister. Then Wing rented the P. A. Asbury farm in Dexter Township, Section 32, for three months, December, January and February. In March of 1901, the family moved to a place southeast of Cambridge, the Carr. In 1903 they were living by a bend in Cedar Creek, east of Cambridge on the east Lyons place. Here another set of twins were born, Pearl Washington and Earl Theodore, on October 27, 1903. Wing was a blacksmith and carpenter for the community.
On March 1,1907, the family moved into a rock house on the Weaverling place. They had 320 acres of land, the quarter section containing the house and quarter to the north. Wing built a blacksmith shop and a chicken house on the north quarter, directly north of the house. The family remained here for fourteen years.
In March of 1921, Wing and Maggie with the 17-year-old twins, Pearl and Earl, moved southwest of Cambridge to the A. L. Branson ranch. Their son, Luther, and his wife, Ethel, were living there. Wing, Pearl, and Earl helped with the farming.
Wing became ill on his 80th birthday. He had gone fishing with his son, Earl, that afternoon. He died five days later on June 22,1922, of a ruptured appendix. Funeral services were held at the Cambridge Presbyterian Church. Burial was in the Cambridge cemetery.
| | |
| --- | --- |
| | |
| John H. Hawley | Charlotte Burton Hawley |
| 1814 - 1866 | 1815 - 1868 |
| | |
| 1. William Hawley ( 1840 - 1865 ) | Died in Civil War. |
| | |
| 2. Winfield Scott Hawley ( 1842 - 1922 ) | |
| | |
| 3. John J. Hawley ( 1844 - 1863 ) | Died in Civil Was. |
| | |
| 4. Joseph Hawley ( Elmira Prunty ) | Sons - Robert, Evert, Edward, |
| (1846 - 1935 ) | John, Will, Wirt |
| | Daughters - Josephine, Laura, |
| | Mae,Emma ( Hicks ) |
| | |
| 5. Etoley Hawley( Granger Compton ) | Sons - Jim, Grat, Charles |
| | Daughters - Virgie, M. Easley, Cumby |
| | |
| 6. James Hawley (Martha Tabor ) | Sons - Lonnie, Jim, Lloyd, Nathan |
| | Daughters - Stella, Nannie, Lou, |
| | Edna, Maggie, Julie, Cannie |
| | |
| 7. Radford Hawley | Never Married |
| | |
| 8. Mary Julie Hawley (Missie ) | Never Married |
| | |
| 9. Charles Hawley ( Lelia Taylor ) | Sons - Jack, Willis |
| | Daughters - Edith, Forence, Ethel, Gr |
| | Icel, Jannet, Cleo, Easter |
| | |
CHARLOTTE ANN HAWLEY
Charlotte Ann Hawley was born in Mercer County, West Virginia on October 29, 1885. She was the oldest of the twelve children of Winfield Scott and Margaret Faulkner Hawley. She was named for her two grandmothers, Charlotte Hawley and Ann Faulkner.
In 1900, when she was 14 years old, she moved with her parents, along with eight brothers and sisters, to Rugby, North Dakota. Here a new sister was born and Charlotte had the privilege of naming her Elsie Marie. In the fall of the same year, traveling in a covered wagon, the family moved to Cowley County, Kansas. They lived on rented farms southeast of Cambridge, first the Carr place and later the east Lyons. Being the oldest of 12 children, Charlotte worked hard helping her mother and caring for her younger brothers and sisters. on the Lyons farm, she did the family washing in a branch of Cedar Creek. Her father built a stone fireplace by the water. She built a fire, heated water, washed on the board, and rinsed the clothes in the creek. In 1903, her twin brothers were born. Charlotte cared for her mother, did the work, and kept the household going. It was while the family lived here that Charlotte met her future husband. Fred Hillier lived with his parents on a farm north of the Hawley's. Fred came courting and Charlotte consented to be his wife. Charlotte made a special trip to Burden to get material to make her wedding dress. When she later inspected her purchase at home, she was horrified to discover that it was light green. In the dim light of the store it had looked blue. She could not possibly be married in green. She said I would rather die and be buried in it than have to get married in a green dress. She didn't have enough money to buy more material. Seeing how upset his sister was, Bob gave her the money to buy more. So she went back to Burden and this time got a cream color and made her dress. She and Fred were married on December 25, 1906. Fred and Charlotte moved in with his parents on the old Hillier place, 160 acres of land located one-half mile south of the Windsor School. Later Fred's parents built a home just north of the Cambridge city limits and moved there, leaving Fred and Charlotte on the farm.
Charlotte's family moved to the Weaverling placeUater the Walter Hillier farm) in March of 1907. It was in the fall of that year that her mother and several brothers and sisters became ill with smallpox. Disregarding her own safety, Charlotte went home to take care of her mother. She nursed her through a very severe illness. But Charlotte also came down with smallpox. She recovered but still in a weakened condition, she contacted diptheria. She survived both of these serious diseases and on February l3 1908, gave birth to a healthy baby boy, Sidney.
Sidney was a lively little boy and always into something. Charlotte was having trouble getting her work done and watching him. She asked her youngest sister Elsie to live with them and keep an eye on Sidney for her. Elsie moved in with them when she was eight and stayed for three years.
In 1916, Charlotte held a wedding shower at her home for her sister Elsie. over a hundred guests attended. It was shortly after this that Fred's parents bought the house just south of the Church of Christ in Cambridge and moved in. Fred bought the home north of Cambridge and moved his family there. Charlotte lived in this house for the rest of her life. During this period Fred worked for the township as the foreman of a road crew. He also did carpentry work.
Charlotte was a small dainty woman. She had a luxurious head of hair, described as enough for three people. She was an excellent cook, homemaker and seamstress. She made clothing for her brothers and sisters both before and after her marriage. She also did sewing and quilting for others. A niece, who was seven at the time, remembers how she loved to go to Aunt Charlotte's because she always had something delicious baked to serve to her guests.
Charlotte is remembered as being always sweet and cheerful and never saying an unkind word about anyone. She was a devoted daughter and willingly helped her parents whenever help was needed. She nursed her mother during her last illness. Maggie Hawley died in her daughter Charlotte's home on April 30,1931.
Charlotte died on October 12,1937 of a stomach ailment thought by her relatives to be cancer. She spent the last three weeks of her life in a Winfield hospital. She was 51 years old. Funeral services were held in the Cambridge Presbyterian Church and burial was in the Cambridge cemetery.
Her husband, Fred, survived her by many years, dying on January 21, 1959.
Her only son, Sidney, ran a grocery store in Cambridge for nearly 23 years. He died of a heart attack at age 53 in 1961.
Descendants of Charlotta Ann Hawley and Fred Hillier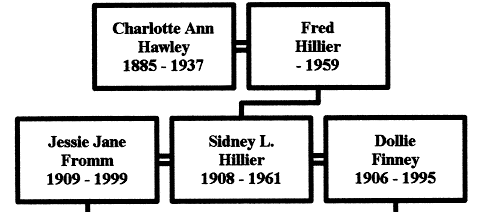 ROBERT LEE HAWLEY
Robert Lee Hawley was born November 15, 1886 in West Virginia, the second of a family of twelve. The father farmed a small acreage. They all worked from an early age. Their mother wove a sturdy cloth made from their shorn sheep. This was made into homespun yarn and then material for making pants, etc. These garments were very durable and passed from one child to another as they grew. Their father made some of their shoes or traded the surplus from his farming for whatever else they needed.
The family moved to the Dakotas but fared poorly due to drought. The father fished and hunted for food. Their main staple was turnips for the winter.
They then moved to Kansas. Bob attended South Prairie School, taught by Bill Weigle. Schooling for him was during months when little work was available. He learned the basics.
He joined the social life of the community where he met and courted Maude Spencer. They were married in Cambridge, Kansas, February 25,1909.
Shortly after their marriage Bob and Maude went to Lipscomb, Texas where he worked on a cattle ranch for Tom LeMaster. Bob worked from day- light until after dark many times during roundup and cattle drives. It was 45 miles to the nearest railroad. Maude rode horseback to the post office, going ~cross pastures and through gates. She sometimes boarded the unmarried men. Several Cambridge men were working there at times.
They returned to Cambridge about 1911 where Bob operated a black- smith shop. Maude had been plagued with poor health most of her life. She underwent two major surgeries within less than a year.
In November of 1916, they and the Weigles moved their household goods and the Weigle farm animals, etc. by box car to Idaho. The Weigles acquired land north and west of Jerome. The two men and two Weigle boys, ages 21 and 13, built a rough 4~room house, shelter for the animals and cleared sagebrush from some of the land. The sagebrush was used for cooking and heating fuel.
In January the Weigles returned to Kansas to bury their only daughter who had died in a fire in the nurses' quarters at St. Mary's Hospital.
The winter was very cold with lots of snow. The house was on blocks lett ing cold air under it. Bob used manure to insulate as it was the only thing available. When spring finally came they worked hard to get the ground ready for farming.
They farmed a year or two south and east of town. They next moved 6% miles north of town. Bob worked in a blacksmith shop in town. At this time they used a motorcycle with a side car for transportation.
They became acquainted with a Nelson Sheppard who was farming 7 miles north and 1.5 miles east of Jerome. They both worked for $35 a month. Mt. Sheppard's brother-in-law, a railroad engineer for the Union Pacific who lived in Omaha, Nebraska, had acquired a farm. Bob cleared the land and farmed it besides homesteading 50 acres 7 miles north of his own. In addition to his farming, he operated a threshing machine doing custom threshing.
Bob and Maude loved children, but could have none of their own. They decided to adopt a child. Mary came to live with them in May of 1922. She was almost seven years old.
Bob bought his first farm in 1926,80 acres of farm land and 40 acres of wasteland which he later farmed. In 1929 he decided to retire. He sold 40 acres on contract and rented 80.
They made a trip to Kansas that fall and then accompanied by his mother went on to West Virginia to visit his old home and the relatives. Maude had pneumonia while there and they returned home in late May.
They bought a home in Jerome. Earl, Frances, and Wanda moved to Idaho in June. Earl helped with the remodeling of the house. Nita was born in July of that year.
By 1931, the depression was being felt. The 40 acres was turned back. Bob had a small band of sheep so he returned to the farm where he took care of them and farmed the 40. In 1934 the renter moved so he started farming it all again including the 50 acres. They made return trips to visit relatives in Kansas, Missouri and Oklahoma in 1935-36, in 1941 and again in 1952.
Bob sold the bigger farm in 1944. They moved the house from town to the 50 acres and acquired 80 more acres. They tried renting the land but Bob continued to work until his eyesight became so poor that he was persuaded to sell the land to Earl and they moved to town in 1968.
In the later years the rest of the family came to visit them.
Bob died April 3. 1973 and Maude on December 16.1975.
R. L. HAWLEY
BLACKSMITHING AND GARAGE WORK
OIL AND POLARINE
_________________
Descendants of Robert Lee Hawley
LUTHER CLEVELAND HAWLEY
Luther Cleveland (Pete) Hawley was born on August 13, l888, in Mercer County, West Virginia. He was the third of twelve children of Winfield Scott and Margaret Faulkner Hawley. He spent the early years of his life around Blue- field. At the age of eleven, he, with his parents and eight brothers and sisters, went by train to Rugby, North Dakota. The family had hoped to settle there. They arrived in May of 1900. The summer was dry and crops did poorly. In September, the father decided to move his family to Kansas. They traveled in a covered wagon, a spring wagon, and a buggy. Pete and his brothers, Bob and Conrad, slept in the spring wagon. The trip required 54 days.
Pete finished growing up in and around Cambridge, Kansas. He at- tended schools. in West Virginia, at South Prairie, and at Windsor. Being one of the older boys in a large family, he learned to work at a early age. He liked cattle and horses and was the best cowboy of the Hawleys.
As a young man, Pete competed at rodeos. He often entered the relay race. This was a timed event where the rider saddled his horse, rode to a designated spot and back, unsaddled and then saddled the next horse, etc. Each contestant usually had three horses. The fastest time won. Pete was also an outstanding bronco rider. He worked for a time on a cattle ranch near Lipscomb, Texas, where he helped drive a herd of cat- tle from Texas to Cedar Vale, Kansas.
Pete was a small man, the shortest of all the brothers. He has been described as being like a little Bantam rooster. This was due both to his small stature and his love of fighting.
Pete and his future wife, Ethel Harris, lived in the same neighborhood and grew up together. The Harris ranch was about four miles east of Cambridge. Pete was a good friend of Ethel's brothers, Roy and Guy. He had worked at different times for her father, Jim Harris.
Pete and Ethel were married in Winfield Kansas on July 12, 1916. The1r first home was at Grand Summit on the Hiatt Ranch. A few months later, Pete and his brother, Fitz, rented the Branson Ranch on Grouse Creek, southwest of Cambridge. Fitz helped Pete and Ethel move. They had lots of land to farm, so they hired Swede Wade and Norman Crow to help. This arrangement continued until Fitz sold out to Pete in 1915. In 1921 and 1922, Pete's parents, Wing and Maggie Hawley, and his twin bothers, Pearl and Earl, lived with them and helped with the farming.
In 1927 the house burned on the Branson Ranch. Ethel remembers that she and Pete had gone to town that evening. After arriving home, they had gone to bed. During the night, they were awakened by a boy who worked for them. He had been sleeping in an upstairs bedroom and had smelled smoke. The fire had started in the upstairs around the chimney. Everyone got out of the house safely. Pete grabbed two pictures from the wall, one of his parents and the other of Ethel's. Ethel saved a small trunk of her possessions. She recalls getting her old shoes and leaving a new pair to burn. They lost everything in the fire. The community held a shower for them and they received many useful gifts.
Pete and Ethel lived with his brother, Jinks, and his wife on the Marrs place while a new house was being built on the Branson Ranch. They remained on the Branson Ranch for several more years.
Pete and Ethel had no children of their own but they raised Jackie Jones, Ethel's neice, Jackie came to live with them in 1925 when she was three years old.
Pete and Ethel moved to the George Barger farm north of Dexter. Later Pete bought the Jim Clark farm the next place across the road from the Barger.
Pete was a rancher and farmer until 1947 when failing health made it necessary for him to retire from active work. He and Ethel purchased a home in Dexter and resided there.
He died of cancer on March 17,1949, at the home of his brother-in-law, Guy Harris, in Cambridge, Kansas. He was 60 years old.
His widow, Ethel Harris Hawley Casebolt, is still living. She is a resident of the Grouse Manor Nursing Home in Dexter.
CONRAD N. HAWLEY
Conrad N. Hawley was born in Mercer County, West -Virginia on December 31,1890. He was the fourth of the 12 children of Winfield Scott and Margaret Faulkner Hawley. At the age of nine, he moved with his parents to Rugby, North Dakota. In the fall of the same year, they moved to Cambridge, Kansas. He attended schools in both West Virginia and Kansas.
He received the nickname .'Doc'. while still a boy. In order to earn some money he had sent off for some patent medicine to sell. He was trying to sell this to his neighbors. one of the neighbors, John Hillier, called him Doc and the name stuck. He was never given a middle name. When he was older he added the initial N.
As a young man he was a sharp dresser. One of his brothers describes him as being as fussy as any woman about his clothes. He always kept his suits well-pressed. His brother Luther, two years older, would slip his clothes out and wear them without his permission. Conrad would then catch him and Luther always won the resulting fight. After this had gone on for some time, their father finally told Conrad, Either you whip that boy or I'll whip you. The next time Luther took Conrad's clothes, Conrad followed Wing's instructions and gave Luther a sound thrashing.
Conrad tried cowboying on a ranch near Lipscomb, Texas for a short time. He told his brothers that on the ranch you went to bed by lantern, rolled over once and grabbed the lantern on the other side as you got up. He wanted no more of that.
Conrad could shoe horses and mules faster and better than anyone in the country. At that time, blank shoes were used. They had to be heated, shaped to the horse~ feet and the heels turned down. Whenever Conrad was home, people came from allover the area and brought their horses for him to shoe. He worked in his father's shop. Wing Hawley, because of his age, didn't shoe horses, though he still did other types of blacksmithing.
Conrad has been described as being aggressive. He got in numerous fights but usually came out on top. In a letter to his parents in 1919, he describes a fight as follow: Say, Pa, I sure did have some fight last week. I and a man locked horns. He weighed 230 and his boy weighed 180. I got one black eye and I knocked him down 4 times and was kicking the ribs out of him when they caught me. The boy did not get in as the conductor on the local got him.
Conrad first met Lenna Hill at a picnic and fair in LaCrosse, Kansas. He was there with her uncle. He asked Lenna to ride on the merry-go-round with him. She consented and recalled later that they had a jolly time together at the concessions. The next Sunday Conrad came out to her home and spent the day with her. From then on, the two wrote to each other when Conrad was away. He came back to see her as often as possible. They were married two. years later on Christmas Day in 1914. In the evening of the same day, Lenna's brother was married at his girl's home. Conrad and Lenna were their attendants.
Their first home was in Cambridge where Conrad worked in a blacksmith shop. They rented a house from Jack Grubbs. This is the same house where tFitz and Elsie Hawley now live. Later in 1915, they moved to Bison, Kansas. Conrad again worked as a blacksmith. Their first son, Wilbur William, was born in Bison on November 5, 1915. The second son, John Leonard, was born 1 in LaCrosse on June 26, 1920.
It was while they were living in LaCrosse that Fred and Charlotte Hillier brought Conrad's parents, Wing and Maggie Hawley, out for a visit. They were persuaded to have their picture made. This is the only studio picture we have of the two of them together.
Conrad learned the plastering trade from Lenna's father. In 1923, he moved his family to Hayward, California. Here he worked both as a plasterer and plaster contractor. Conrad's brother Earl joined him in California and learned the trade also.
In 1927, Conrad, Lenna and some of their friends were on a weekend fishing trip at Santa Cruz, California. Lenna was not feeling well so she was lying on a cot. Conrad was going out to run his fishing lines . He was wearing a gun tucked in his belt. He bent over to kiss Lenna goodbye. The gun fell and accidentally discharged. Conrad was struck by the bullet. A nurse at the camp applied a tourniquet. However, the nearest doctor and hospital were miles away and he died from the wound. This was on May 1, 1927. He was 36 years, 4 months and 1 day old.
His body was shipped back to Cambridge for burial. Funeral services were heId at the Cambridge Presbyterian Church on Sunday, May 8. This was one of the largest funerals ever held in Cambridge. Burial was in the Cambridge cemetery.
Lenna and the boys, ages 11 and 6, moved back to LaCrosse to be with her parents. She married a farmer, Calvin West, five years later in 1932.
Her second husband died in 1960. She has also lost both of her sons.
Lenna is presently living in Medford, Oregon.
Descendants Conrad N. Hawley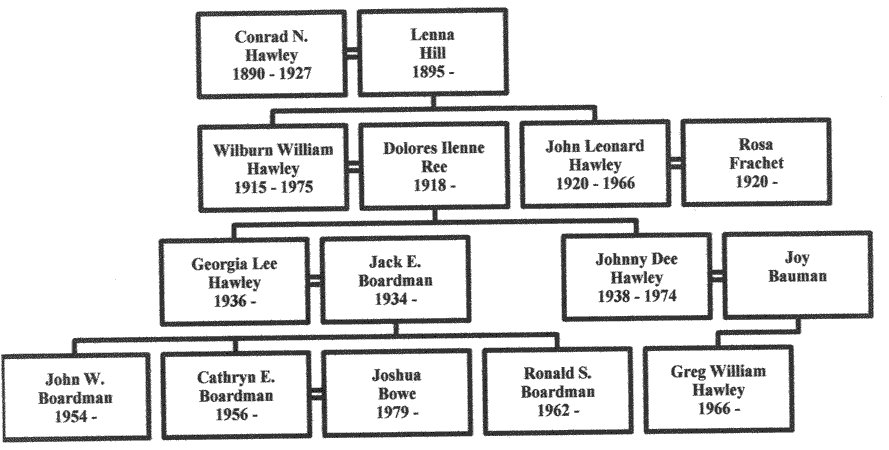 SARAH ELLA HAWLEY
Sarah Ella Hawley was born on December 17, 1892, in Mercer County, West Virginia. She was the fifth child and the second daughter of Winfield Scott and Margaret Faulkner Hawley. She was almost eight years old when her family moved to Kansas by way of North Dakota.
Ellie attended Windsor School with her brothers and sisters. The family lived near Cedar Creek and Ellie became an excellent swimmer. The Hawley girls would swim every day in the summer as they went after the cows.
Ellie was the best gardener of the whole bunch. She could always find the best spot such as an old hay pile to plant her seed. Her melons were always the largest. She carried this green thumb into her adult life. She raised a garden as long as she was able. She also had beautiful flowers.
Pearl Goddard courted Ellie and asked her to become his wife . Before they were married she promised him that she'd bake him biscuits every morning for breakfast. She kept this promise as long as her health permitted. Pearl and Ellie were married on December 20,1910, three days after Ellie's eighteenth birthday. They moved in with Pearl's parents on the Goddard farm south of Cambridge.
Their only child, Benjamin Waldo, was born on August 30,1911.
There was a bad drought in 1913. The Goddards heard glowing accounts of Idaho so they decided to move there. Four families made this move, Pearl, Ellie and Ben, Pearl's parents, Pearl's sister, Retta Hancock and family, and the Ed Spencers. They contracted two boxcars and moved livestock and household goods. Pearl and one of the other men rode with their freight. The others went by passenger train. They settled at Twin Falls. Pear Ellie and his parents lived together in the country. Food was plentiful. They were able to have all the beans and potatoes they could use just by picking them up from the culls. There .was also an abundance of all kinds of fruit. Pearl's sister had a goiter and had been in poor health for several years. She became much worse in Idaho. In 1915, the Goddard families decided to move back to Kansas.
Pearl, Ellie and Ben along with Pearl's parents moved back to their farm south of Cambridge. Ellie always lived with Pearl's parents. She never had a home of her own until after their deaths.
Ellie was a hard worker. She would go with Pearl over on Otter Creek to cut wood .She boasted that she could chop wood as good as Pearl. She also milked cows and worked in the fields along side her husband.
She was an excellent cook. So were Ben and Grandma Goddard. The Goddard's ate better than most people. Pearl would not eat anything that had been warmed over. If any food were left from a meal, it was thrown away. Ellie waited on Pearl hand and foot. He was described by an acquaintance as the worst spoiled man I've ever met.
Ben started high school at Cambridge but did not finish. Later he became a member of the Baptist Church and decided that he would like to preach. He finished high school, went to Bible college, graduated and was ordained to the ministry.
Pearl and Ellie did not own an automobile until 1955. They drove a team of horses hitched to a farm wagon into Cambridge to buy their groceries. Grandma Goddard died in 1944. Around 1959 Pearl and Ellie bought the house just north of the Baptist Church and moved into Cambridge. In 1960, family and friends helped them celebrate their fiftieth wedding anniversary.
Ellie's health began to fail. She had problems mentally and at times was completely disoriented. She spent the last three years of her life at the Darrah Nursing Home in Winfield. She died on November 29, 1965. Funeral services were held at the Cambridge Church of Christ and burial was in the South Prairie Cemetery. Pearl died on January 2,1968.
Ellie's only son, Ben, died from a heart attack on February 27, 1968. He was minister of the Baptist Church in Waynesboro, Mississippi at the time of his death.
Descendants of Sara Ella Hawley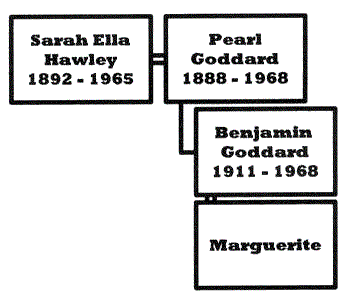 MARY NORA HAWLEY
Mary Nora Hawley was born March 13, 1895, at Bluefield, West Virginia, the seventh of a family of twelve children of Winfield Scott and Margaret Faulkner Hawley. She was one of a set of twins. She also had twin brothers.
When she was five, the family, with their nine children, moved to Rugby, North Dakota. Later that year in the fall, they moved to Kansas where they settled in the Cambridge area. Nora's education of nine years was in the Windsor School.
While Nora was growing up, her mother, Maggie, received a legacy. With this money, she purchased two items--a loom for weaving rag rugs and a beautiful blue-enameled wood cooking stove. When her mother started her weaving business, Nora did most of the cooking for the family. Her mother told her that when she was through with the stove it was to be hers. Maggie never had an oil cook stove so she used her wood stove until her last illness in 1931. Nora used it until after she moved to Winfield in 1936. She was still using it at their first home in Winfield.
In the summer of 1914, Nora went to near Alva, Oklahoma and visited some of her Faulkner cousins and worked at various locations helping to prepare food for the harvest crews of the wheat country. At one time she cooked for the Overman Hotel in Cambridge. This was probably the winter of 1914-1915.
On January 6, 1915, Nora was united in marriage to William (Bill) Henry Mart ling. They lived south of Cambridge in the Highland Community and farmed. There were nine children born at this location; Eva Marie, October 8, 1915, Roberta Noreen, April 15, 1917, Mary Lucille, December 22, 1918, Frank Wayne, February 11, 1920, Luther Everett, August 6, 1921, Donald Dean~ November 14,1923, Nellie Irene~ September 15~ 1925, Ruby May~ January 17~ 1927, Neva Grace, April 16, 1929.
In the fall of 1936, they moved to Winfield, Kansas after losing the farm due to the drought and the depression. Nora and Bill both worked for Lunsford Produce for a time. Later they operated a produce house for Seymour Packing Company until it closed. Then Nora worked for Armour's for several years, candling eggs and testing cream. She retired about 1957.
Nora and Bill lived in only four houses, moving on Fuller Street in 1940. Nora enjoyed gardening and raising flowers. Lots of Winfield residents drove down South Fuller to see her flower garden of iris, jonquils, peonies and roses. She also had a large garden and canned. lots of her garden produce.
Bill suffered a number of small strokes and also became diabet ic in 1958. Then in 1959 he had a fractured hip and was confined to bed or the wheelchair until his death in June, 1964. Nora faithfully took care of him. During this time, she pieced a great many quilts.
After Bill's death, Nora had a hard time getting used to being alone. She said that for the first time in her life nobody needed her.
She made the adjustment and in time had several pen pals that she got acquainted with through her quilting magazines. It would be wonderful to know how many quilts she pieced through the years. All the the children, nearly all of the grandchildren and several other relatives received them as gifts. These quilts are much treasured.
Weaver and Dessa Dwyer were good friends who took her to church. She became active in the Bible Study class and services in the Church of Christ at Winfield where she attended as long as she was able to go.
Nora's health was remarkably good with few illnesses until soon after her eightieth birthday. That spring she began having heart problems and trouble seeing and needed cataract surgery. This was her first time to be a patient in a hospital. When they were nearly ready to do the surgery she suffered heart failure but after a short delay, she had the surgery. About three weeks later and before she could be fitted for glasses, she had a stroke. This was near the end of September, 1975. She was never able to walk alone nor to return to her home. Her last year was spent in Wheat Road Good Samaritan Care Home and later Winfield Rest Haven Care Home. She had always been very independent and being totally dependent on others for her care made her very unhappy.
Nora died in October of 1976. Both she and Bill are buried in the Dexter Cemetery.
CORA JANE HAWLEY
Cora Jane Hawley was born March 13, 1895 in Bluefield, West Virginia. She and Mary Nora were 0!. tw1.ns. When she was five the family moved to Rugby, North Dakota. They only stayed a short time before they moved to Kansas in a covered wagon in 1900.
Cora received her schooling at Windsor, east of Cambridge. She attended Winfield High School and graduated in 1915. She stayed in a private home with Mr. and Mrs. Wiggins. They had three small children. She helped with the care of them and with household duties. After graduation she attended Normal in Arkansas City, Kansas. She then taught school for 'seven years. She taught at Banner, where she had her sister, Elsie, as a student, Upper Timber Creek north of Cambridge and at Hoosier where she roomed with Nora. She had a horse named Betty which she rode to school.
With her first year's earnings she took her father back to West Virginia. They went by train from Independence, Kansas.
She met Drayphus Dewey (Swede) Wade when he was visiting the Hawley residence. He came from Willis, Virginia. He had been cranking a model T Ford when it kicked and broke his wrist. Grandpa Hawley took him in and he stayed in their home until able to resume work on the Branson Ranch.
Cora and Swede were married on May 11, 1921. They lived east of Cambridge and farmed with Fitz for several years. They lived on the Hiatt, Lyons and Graham farms. Swede worked on the first oil well, the Brown, northeast of Cambridge. After this he went to the oilfield as a tool dresser and later a driller. He worked away from home most of the time with Cora maintaining the home.
They had four children, Martha Jean, born May 3,1922, Milton Ambert, November 10, 1923, Robert Dee, October 28, 1925 and Charlotte Elfreda, February 23,1932. Charlotte died February 26, 1979.
During World War II Cora was recruited to reenter the teaching field but declined saying her place was in the home.
Cora was always ready when called upon for needs of her family. When her mother and sister, Charlotte, were ill, she left her family at home and attended their calls. On many occasions she accompanied Dr. Brooks and Dr. Green to deliver babies. Some were members of her family and others were friends.
During the 1930's Cline Wade and Thurman Wade, brothers of Swede, came to live in their home. Cline lived with them for five years and Thurman for two years. In 1931 Cora accompanied Pearl and Gladys Hawley to Idaho for a visit with Bob and Maude Hawley.
In 1946 Jean and Don Nibarger took Cora and Charlotte to West Virginia and Virginia. They visited three weeks in the Thomas Wade home in Willis, Virginia meeting them for the first and only time. Grandma Wade looked and was a lot like Grandma Hawley. on the way home, they stopped in Bluefield, West Virginia and visited Aunt Nannie and Beulah. They toured the surrounding countryside seeing the place where Nora and Cora were born.
Cora and Swede always raised a large garden, canning and freezing and sharing with others. They also liked having company and their home was always open to all.
Cora loved to swim. She would take time out from gardening and canning to take the children from Cambridge to the Red Silo swimming hole.
Cora was a member of the Presbyterian Church where she was the teacher of the adult class for many years. She was giving lessons in the Guild up to the time of her death.' She always read and studied her Bible, spending hours on each lesson.
Among the many things she loved was tatting. She had taught this art at the Possum Run just a month before her death. She was always happy to have taught another and pass this on down through the years. She taught all her granddaughters and Norma to tat.
Cora and Swede had nine grandchildren and sixteen great-grandchildren.
Swede died on July 26, 1979 and Cora on September 29,1980.
JENNINGS BRYAN HAWLEY
Jennings Bryan Hawley was born on March 22. 1897 at Bluefield. West Virginia, the eighth of 12 children of Winfield Scott and Margaret Faulkner Hawley. He was named for William Jennings Bryan who had been the unsuccessful Democratic candidate for the presidency in 1896. He was called Jinks by his family and friends.
When Jinks was three, the family sold their possessions in West Virginia and moved to Rugby. North Dakota. They only remained a short time. In September of 1900, the family. which consisted of ten children now, moved by covered wagon to Cambridge, Kansas. Jinks remembered this trip. When asked by his children what they ate, he I replied, I don't remember what we ate, but I do remember that we always had plenty to eat.
Jinks lived with his family on the Carr place. the Lyons, and the Weaverling. He was ten when they moved to the Weaverling where they remained for 14 years. He attended school at the Windsor School. He wasn't too regular in his attendance. On more than one occasion, he skipped school and spent the day fishing on Cedar Creek. He was good in arithmetic and could figure rapidly in his head. Years later many of his business associates marveled at how he could come up with the correct answer while they were still figuring with pencil and paper.
As a boy he did the usual farm chores. One stormy evening. he was bringing in the cows when he was struck by lightning. He was knocked to the ground and received a burn on one side. His sister Elsie was in the same storm. She was watering her horse at the pond. When the bolt struck, the horse jumped out from under her and she landed in the pond.
As a young man. Jinks worked for different people in the area. At one time he worked for a farmer down by Cedar Vale. While helping build fence, a staple flew and struck him in the eye. As a result of this accident. he lost his sight in that eye.
For entertainment, the young people of the neighborhood would get together at different homes and have yard or country parties. They would sing songs, visit, dance, or play games. Jinks became acquainted with his future wife, Ethel May Garretson, at these country parties. They began dating. Many times they would double date with Jinks' brother Earl and his girl, Frances Kelso. After going together for a year and a half, Jinks and Ethel were married at the courthouse in Winfield on February 16, 1927. Their first home was on the Willie Marrs' place on Grouse Creek, southwest of Cambridge. They lived there for three years. Their first son, Leonard James, was born there on June 6, 1928.
They moved to the Charley Hendrickson place on Grouse Creek in 1930. Two more children completed the family, Lloyd Eugene on April 3,1930, and Luella Ruth on May 16,1932. They remained on this farm for several years. Their house was right next to Grouse Creek and the children loved to fish and swim during the summer months. They attended school at South Torrance and later at the Cambridge High School. Ruth attended Burden High School.
Jinks farmed and raised cattle. He also was a cattle trader. He would hire boys from Cambridge to work for him during the summer. Most of the boys liked to work for Jinks. They said he paid good.
Around 1944 they rented the Ross Wilkins farm northeast of Burden. This was a beautiful place and Jinks and Ethel were very happy there.
In 1948, Jinks, Ethel, and their daughter, Ruth went with Bob and Maude Hawley to West Virginia to visit relatives. Lloyd stayed at home and took care of the place. Leonard was already working away from home.
When Jinks' health began to fail and he was no longer able to work, he and Ethel moved to their present home west and south of Burden. They had purchased this farm in 1947.
After a long illness, Jinks died at the Newton Memorial Hospital in Winfield on December 10, 1965. Funeral services were held at the Cambridge Presbyterian Church and burial was in the Cambridge cemetery.
Ethel is still living in their farm home southwest of Burden. Her, son, Lloyd, lives with her.
GEORGE FITZHUGH HAWLEY
George Fitzhugh Hawley was born August 31, 1898 in Mercer County, West Virginia, the ninth child of Winfield Scott and Margaret Faulkner Hawley.
In May of 1900 the family moved to Rugby, North Dakota. It was here at the age of two that Fitz became very ill with measles and then meningitis. The disease left him with one leg badly crippled, and many thought he would never walk again.
He didn't walk for five years, crawling every place he wanted to go on hands and feet. It didn't slow him down any--Fitz could crawl as fast as most kids could run.
Fitz remembers his dad promised him a pony if he would learn to walk. He did learn to walk eventually, with the help of a leg brace made for him by his brother, Conrad, and by supporting his knee with his hand. Every step he took, his knee was supported by his hand.
Fitz did get the pony, named Jiggs. The whole family used him as sort of an all-around pony. It seems Jiggs was an exceptional pony. Fitz says he laid down so he could get on and even pawed his foot for the number of ears of corn he wanted.
Being crippled, Fitz developed very strong arms. He learned to walk on his hands and was very good at it, being able to go up to a quarter of a mile in this manner. He could walk up the back of a chair, then down to the chair seat and back to the floor. Fitz could really put on a show and was even offered a job with a circus. This was disallowed by his father, who said he didn't think circus life would be very good for anyone. Fitz suffered a broken leg in 1956, and since then has walked only with crutches.
Fitz remembers his dad as a hard working man who also loved to hunt and fish. He says he Was a good provider, and there always seemed to be plenty of food on the table for family and friends, who were always welcome at mealtime.
Windsor School was the source of Fitz's formal education. He was sometimes carried to school by his brothers. Math was his favorite subject and he learned the most from ciphering matches.
In 1922, he went to work for the National Refining Company, which later became CO-OP. At the start. he rode horseback about twenty miles a day, checking the pipeline for leaks. If he found a leak, he would go back, get his car and tools and fix it. He later drove the pipeline by car.
At the time of his retirement, he was the only pipeliner of his kind left on the job. He worked forty-one years as a pipeliner. In addition to his job with the oil company he operated a custom hay baling and siloing crew for several years. He was also a trader. One year he bought and sold 110 train car loads of hay and straw. He loved to coyote hunt on horseback and owned some exceptionally good dogs. Along with several of his hunting buddies, Fitz spent many an afternoon, after riding pipeline, hunting coyotes.
On November 25,1929, Fitz married Elsie May Manahan at the courthouse in Howard, Kansas. Their first home was on the Ray Brunton place, two miles east and one mile north of Cambridge, Kansas.
In 1930 they moved to the Cullember place. It was here their first children were born, twin girls who died the same day they were born.
They moved to the Graham place in 1932, and here became parents of a daughter, Shirley Augusta, born April 26,1933. Later another daughter, Agnes, was born but lived only a few days. Blanche Juvene was born on March 5, 1938 at the hospital in Winfield. Next Lorna Lou was born on September 16, 1939. Then two sons were born to complete the family, Joe Harvey on September 12, 1941, and Richard Orin on August 16, 1944. All five children are graduates of Cambridge High School.
In March of 1945 the family moved to the rock house on the Hillier place. They lived there for the next 13 years, then moved to town in 1958 to the house in Cambridge where they still live. Fitz's favorite pastime is playing "pitch'. and having company. He loves people and enjoys having old friends stop by and visit.
Hawley Page 52
ELSIE MARIE HAWLEY
Elsie Marie Hawley was born July 23, 1900, in Rugby, North Dakota. She was the tenth child of a i family of twelve children. When she was six weeks old her family moved from North Dakota to Kansas in a covered wagon, taking fifty-four days to make the trip.
Elsie went to school at Windsor all but her last year. She went to Banner School since her sister, Cora, taught there.
Elsie first met Archie Jasper Dwyer at a pie supper at Windsor School when she was twelve. They wrote to each other occasionally. They started going together about two years before they were married. On December 6, 1916, Archie and Elsie were married at the Winfield, Kansas Courthouse by Judge Guy. They started housekeeping at the same place Where she first lived with her family after they arrived in Kansas. This was south and east of Cambridge several miles. She had learned to crawl at this place.
They moved to town a while after that and later built a new home. They had lived in the new home about two weeks when their first child, Bethel Elizabeth, was born on April 20,1918. They had moved to a farm north of Cambridge near Mt. Vernon School when Catherine Luvena was born August 8,1920. In August, 1922, Elsie had major surgery and was quite ill for several months.
Archie worked for Seymour Packing Company located at Winfield. They would send him to different places. They lived at Latham, Winfield, and then came back to Cambridge. Archie had certain routes that he ran for them. Wilfred Scott was born October 6, 1927, but died at birth. Two years later Archie Eugene was born on June 14,1929. They lived in Cambridge then.
Archie and Elsie lived in and around Cambridge while the children grew up and went to school. Luvena was killed in an automobile accident September 22,1935, when she was a sophomore in high school. Bethel graduated from Cambridge High School in 1936. Eugene graduated in 1948 and then he spent four years in the navy.
In later years Archie and Elsie lived in Cedar Vale, Kingman, and later in Greensburg, as Archie was working for Seymour Company in these areas.
In 1967, Archie and Elsie were living on the Dave Barger farm. They decided to move to California where their son, Eugene, was living. They had a farm sale and in December of 1967, they left for California in a pickup pulling a U-Haul trailer. They ran into a snow storm at Flagstaff and had to detour about 500 miles out of their way. In California, they worked at a children's ranch. But because of Elsie's health, they were unable to remain there. They returned to Kansas in September of 1968. They lived for a short time in their little house north of the Baptist Church.
They last twenty years of Archie's life they farmed except for the one year in California. They moved to their present home in 1968 and have lived there since then.
They had a fiftieth wedding anniversary celebration in 1966 and their sixtieth anniversary celebration in 1976. They had lived together sixty-four years and one month when Archie died January 6, 1981.
Elsie lives alone taking care of her home, making quilts, raising a garden, and canning. .Her hobby is fishing and she goes whenever she can.
Earl Theodore Hawley was born on October 27, 1903, a few minutes before his twin brother, Pearl. They were born on the Lyons' place 2.5 miles east and south of Cambridge, Kansas, to Winfield Scott and Margaret Luvena Faulkner Hawley. The twins were the youngest of twelve children. Earl's father had wanted to name him "Jubal Ear ley" after a faJrk)us Southern general, but because twins were born, he named him Earl Theodore, but called him Jubal--thus, he acquired the nickname Jube. Their mother was 41 and their father was 61 at the time of their birth.
In March of 1907, the family moved to the Weaverling place, later called the Walter Hillier place (rock house). The house is still standing and is estimated to be over 100 years old. In the fall of that same year, the family came down with smallpox. Earl was very ill.
The twins were close and hunted, fished, swam, and worked together. Their father made a mountain rifle for them to squirrel hunt with when they were about twelve. Their father often took them fishing and hunting. The mountain rifle was made from a 32 rifle barrel and the stock was made from a walnut fence post. It was very accurate.
Earl attended Windsor Schoo1, three miles east of Cambridge, for approximately nine years. His favorite subject was arithmetic and he did well in ciphering matches. His children always marvelled at how he was able to figure in his head so quickly.
Because the owner raised the rent on the Hillier place (from $300 to $600) the family moved to the Branson Ranch southwest of Cambridge on the Grouse Creek in the spring of 1921. His father died in June of 1922, and on March 1,1923, he moved with his mother and Pearl to the Brown place east of Cambridge. Earl and Pearl farmed and did custom baling until 1926. During the latter part of 1926, Earl went to Hayward, California, where he learned the plastering trade from his brother, Conrad. He returned to Cambridge and on March 1,1927, he, his brother Fitz, and mother rented the Doherty place.
Earl dated Frances Marie Kelso off and on in 1926 and 1927, and then on June 1,1927, in Winfield, Kansas, they were married. They lived with his mother for a while and then moved to the Alf Brown place north of Cambridge. A daughter, Wanda Earleen, was born on March 4,1928. She was delivered by Elsie, Earl's sister, while Earl had gone for Dr. Brooks.
In the spring of 1930. the family moved to Jerome. Idaho. in a 1926 Chevrolet Roadster purchased from his brother. Pearl). Earl had hoped to find plastering work; however. because of the depression there was very little. if any. work. Farm wages were $1 a day when work was available. They lived on Bob's farm in a four room house and for a time they lived in one of the old cook wagons. Another daughter. Waunita Blanche. was born July 11, 1930. Wanda was very young but had the responsibility of watching her baby sister by rocking the cradle so that Frances could help with the chores. Times were very hard--there were few water wells and no electricity on the farms.
They returned to Cambridge in 1932 and lived with Frances' mother and grandfather on the Miller place north of Cambridge. A son. Conrad Lee. was born June 7, 1933. Earl worked at whatever he could find--sometimes on the railroad section crew and sometimes on bridges. They lived in several homes in Cambridge and also ran a beer joint and restaurant. Living facilities were located in the rear of the building.
In July of 1936. the family moved to Hayward. California. in a Chevrolet Roadster with a rumble seat. Thurman Wade accompanied them. They arrived July 5.1936. at the home of Lloyd and Chet Barger (cousins). Earl often spoke of the few cents in his pocket when they arrived. Earl worked for them for $6 a day. but put in many hours. In 1938. he went into business for himself. but times were still bad and he had to give the business up; however he continued to work for other contractors when work was available.
On March 20, 1939. another daughter was born on Poplar Street--they named her Jacqueline Louise.
After World War II broke out in December of 1941. he worked as foreman for Bill Hill. plastering contractor. In 1942 or 1943. they rented and later purchased a home on Santa Clara Street. For a short time Earl worked in the shipyards. but returned to his favorite work. plastering. He was always known as a good and hard worker.
All their homes were open to friends and family from Kansas; however, it was during World War II that their home became a home-away-from-home to the servicemen from Kansas. Earl loved his wife. children, and brothers and sisters and was always happy to help anyone in need. especially if they were from Kansas. Frances was an excellent cook and was always happy to add another plate at the table. Many nieces and nephews came to live with the family; however. Milton Wade. his nephew, and Bill Neitz. Frances nephew. lived with them for several years. Both learned the plastering trade from Earl.
Earl's and Frances' last child. Douglas Mark. was born November 12, 1948. on Santa Clara Street.
In 1949 Earl went back into plastering business for himself. and in 1952 they purchased the Barger home on Soto Street.
Earl's favorite pastime was fishing. In later years he kept his fishing boat at his daughter's dock on Bethel Island. He tried to fish every weekend, and this is how he would relax. He also enjoyed hunting. but fishing was his favorite. When the children were young the family often went fishing and camping together. About 1953 they caught a lot at the San Joaquin River Club near Tracy, California. near the river for fishing and by a lake for swimming.
They kept a trailer there. The children, and especially the grandchildren, have fond memories of going to the lake with Grandma and Grandpa. Of course they were spoiled and loved every minute of it.
In October of 1968, Earl and Frances retired, sold their home, and moved to Bethel Island, California. His son, Conrad, took over his plastering business. Earl worked part-time in a bait shop for his daughter. Wanda, and son-in-law, Chuck. They later moved to Idaho and lived on the farm they had purchased from Bob, his brother; however, they returned to Bethel Island after about one year. In November of t 1976, they moved to Burden, Kansas. They lived in a mobil home and then bought a small home on Main Street in Burden. He kept in close contact with his brothers and sisters during his last years in Kansas.
On March 21, 1979, Frances died after an eight month battle with cancer. On August 29, 1979, Earl lost his life in a drowning accident at the tank hole on his twin's farm. Ironically, this is the same hole where he and Pearl, as young boys, were thrown in by their older brother, Bob, to either sink or swim. Earl had looked forward to spending his 76th birthday with his twin, and then going to California to visit his children and grandchildren.
Earl loved to joke. ..he had a wonderful sense of humor. He had a gift for remembering dates, and the grandchildren loved to sit and listen to his stories of the old days. He would have enjoyed this reunion day. ..he could have told us many things.
Pearl Washington Hawley was born on October 27, 1903, the youngest of the twelve children of Winfield Scott and Margaret Faulkner Hawley. His twin brother, Earl, had been born just minutes before. The family was living on the east Lyons Place, 2.5 miles east and south of Cambridge, Kansas.
In March of 1907, the family moved to the Hillier place. Pearl, 3% at the time, remembers this move. . He was fascinated by the stairs in the big rock house and enjoyed running up and down them.
Pearl's formal education consisted of nine years at Windsor School, located three miles east of Cambridge. At that time country schools were held for seven months and for nine grades. Pearl passed the 7th and 8th grade exams but did not take the 9th grade exam. His first teacher was Clyde Fletcher. Another teacher was Mintie Cullumber. She was later to become his son's first teacher. Pearl's favorite subject was arithmetic and he won many of the local ciphering matches.
The family lived on the Hillier place until 1921. In the spring of that year, the owner raised the rent from $300 to $600. Pearl's father refused to pay that amount, so he moved his family to the Branson Ranch southwest of Cambridge. In June of 1922, the father died. The following year, the mother with Pearl and Earl, who were 19 now. rented the Brown place east of Cambridge. They moved in on March 1, 1923.
Pearl met his future wife. Gladys Laura Logsdon, when her family moved from Grenola to the Westfall place. She was 14 at the time. She and Pearl went to school together in the 8th and 9th grades. Their first date wasn't until four years later. On Easter Sunday in 1922. Pearl had taken his mother and father to the Windsor school where they were having a doings. They were living on the Branson Ranch at the time. He made a date with Gladys for that evening. After returning his parents to their home, he went to see Gladys. She was living on the Weigle place. The two dated off and on for the neXt four years. They were married on December 15, 1926 at Winfield, Kansas.
Pearl brought his bride to the Brown place where he was living with his mother. In March his brothers, Fitz and Earl, rented the Doherty place and their mother moved in with them. Relatives from West Virginia, Pearl's mother's sister. Nannie Hypes and husband George. were also living with Pearl and Gladys. They stayed for nearly a year.
On June 2,1929, a son, Ellis Wayne, was born. The family made trips to Jerome, Idaho to visit Bob Hawley and other relatives in both 1930 and 1931. In 1931, while in Idaho, Pearl became very ill while helping Bob thresh beans. The doctor said it was his heart and he must go to bed for s ix months and that he Would never do another hard day's work. Pear 1 came back to Kansas, ignored the doctor's advice, and worked hard for the next 50 years.
A daughter, Dorothy May, was born on May 8, 1934. A son, Donald Ray, born October 12, 1935, only lived a few hours. Two other sons completed the family Carl Elbert, March 4, 1937, and Raymond Glenn, January 13, 1939.
Pearl bought the Brown place in 1941. He later added two other farms, the 160-acre Briscoe located north of Cambridge, in 1947; and 112 acres of the Garretson land in 1951.
Pearl has been a farmer all of his life. Gladys and all of the children helped with the farming operation. For many years Pearl did custom hay baling. His family made up the hay crew.
Pearl has always liked music. He and Gladys both loved to dance. They attended neighborhood dances while the children were growing up. Pearl also liked to sing. He gave many impromptu concerts for his children. He knows dozens of old ballads and country songs such as Billy Richardson's Last Ride and Give My Love to Nellie, Jack. He also had a violin which he taught himself to play.
Pearl retired in 1968 and rented his farm land to his son, Carl, and the pasture land to his son-in-law, Dean Keplinger. He continued helping farm the home place as long as his health permitted.
In December of 1976, the couple celebrated their 5Oth wedding anniversary with an open house at the Cambridge school. Many friends and relatives came to wish them well.
In December of 1979, Pearl suffered a heart attack. After spending two weeks in the hospital, he returned home to recuperate. At the present time he and Gladys are in reasonably good health and are still living on the farm l.5 miles east of Cambridge.
Hawley Page 66
| | |
| --- | --- |
| Sarah Ella Faulkner | George Washington Barger |
| B: Feb 28 1861 | B: Feb 6 1853 |
| M: Feb 28 1882 | D: Feb 4 1939 |
| D: Oct 9 1926 | |
| | |
| 1. Mary Elizabeth (Mollie) Barger | Married Stephen Sanders Sumner |
| B: Dec 11 1882 | Five children: Glenn, Roy, Fern, Ruby, Mildred (James) |
| M: Feb 26 1908 | |
| D: Mae 8 1938 | |
| | |
| 2. Fred William Barger | Married Millie Luella Rockwell |
| B: Jun 11 1884 | Two Sons: Carl Elmer (1916-1928), Roy |
| | |
| --- | --- |
| M: Jan 23 1910 | |
| D: Feb 27 1950 | |
| | |
| 3. Hattie Mae Barger | Charles Alvin Hendrickson |
| B: Nov 10 1885 | Seven Children: Opal (Ankrom), Cecil, Mary ( Taylor ) |
| M: Nov 16 l904 | Lyle, Dale, June (Redford), Dorothy (McConnell) |
| D: May 1 1928 | |
| | |
| 4. Florence Diana (Anna) Barger | Robert William Wege |
| B: Feb 6 1887 | |
| M: Feb 28 1931 | No children |
| D: May 30 1975 | |
| | |
| 5. John Preston Barger | Maude French |
| B: Dec 10 1889 | Three Children: |
| M: Dec 5 1910 | Goldie, Charles, Ralph |
| D: Feb 15 1941 | |
| | |
| 6. Jacob E. Barger | Died young |
| | |
| 7 . Margaret Rebecca Barger | |
| B: Aug 15 1891 | |
| D: 1897 | |
| | |
| 8. James Edward Barger | |
| | |
| --- | --- |
| B: Oct 22 1895 | |
| D: Oct 16 1976 | |
| | |
| 9. George David Barger | Rose Manahan |
| B: Oct 11 1898 | Two Sons: Ray, Ivan |
| M: Apr 2 1924 | |
| D: Dec 16 1958 | |
| | |
| 10. Chester O. Barger | Florence Agnes Pace |
| B: Oct 31 1899 | Two Sons: Dalton, Williard |
| M: | |
| D: Jul 1951 | |
| | |
| --- | --- |
| | |
| 11. Lloyd Barger | Sue |
| B: May 22 1902 | One Son: Melvin |
| M: | |
| D: Jun 16 1950 | |
| | |
| 12. Eula Barger | Bill Hickam |
| B: Feb 27 1906 | Three Childrenl: Myra, Gale, Kenneth |
| D: 1970 | |
News paper clipping
Winfield Scott Hawley was born June 17, 1842 in Montgomery County, Va.. At the age of 18 he enlisted in the Confederate army and served 4 years. He was wounded 7 times. Twice being shot and five times being wounded by the bayonet; he was for ten months a prisoner of war, in a Union prison at the end of which time he was exchanged.
Mr. Hawley was twice married, first to Mary J. Boyles Hambrick in 1886, who was a widow when he married her; to this union no children were born. but he was a true father to her two children. His first wife died in 1880 and in 1884 he was married to Margaret L. Faulkner who with twelve children survive to mourn an affectionate husband and father. The children are: Mrs. Charlotte Hillier, Cambridge; R. L. Hawley Jerome, Idaho; L. C. Hawley, Cambridge; Conrad Hawley, LaCross, Wis.; Mrs. Ella Goddard; Mrs. Wardxx Martling, Mrs. Cora Wade, Jennings Hawley, Fitshugh Hawley, Mrs. Elsie Dwyer, Earl Hawley and Pearl Hawley all of whom reside near Cambridge. Three brothers and one sister are still living, James and Charles Hawley and Mrs. E. Compton of Falls Mills, Va., and Joseph Hawley or Bluefield W. Va. Twelve grandchildren and a host of other relatives mourn the loss of this good man.
Mr. Hawley and family have lived Cowley county near Cambridge since the fall of 1900, where they enjoy the respect or a11 who know them. He was a fine man, kind neighbor and a friend of all in need. He was conscious until the end was near and expressed himself as ready to go, believing that he was saved and ready to meet his God. He lived on the A. L. Branson ranch.
The funeral service was conducted by Rev. Templeton of Winfield, assisted by Rev. Riester of Cambridge Thursday afternoon June 22. A large assembly was present, more than filling the Presbyterian church. A chorus chor rendered beautiful music, Jesus lover of My Soul, When Peace like a River Attendeth my Soul. and In the Sweet By and By.
The pall bearers were all relatives, five nephews and son-in-laws. Lloyd Barger, Dave Barger, Chester Barger, Ed Barger. John Barger and D, D. Wade. The burial was in Cambridge cemetery, where was laid to rest all that is mortal of his friend and neighbor. The sorrowing wife and children have the sympathy of a host of friends and neighbors. A rather unusual thing was that all his twelve children were able to be at the bedside when their father passed away and attended the funeral. His death was the first in the family.
MRS. W. S. HAWLEY
Margaret Luvena. Faulkner, daughter of Gordon and Anne Faulkner was born
December 2, 1862 in Mercer county West Virginia.
Departed this life April 30, 1931, at the home of her daughter, Mrs. Fred Hillier, of Cambridge, Kansas. She was married to Winfield Scott Hawley August 28, 1884. To this union were born twelve children, five daughters .and seven sons, Luther, Jinks, Pearl and Fitzhugh. Howley of Cambridge, R. L. and Earl Hawley of Jerome Idaho, Charlotte Rillier, Ella Coddard, Cora Wade, and Nora Martling of Cambridge. Elsie Dwyer of XXgoton, Kansas. All of which mourn her loss.
Her son, Conrad Hawley. departed this life May 1, 1927.
Her husband preceded her in death June 22, 1922.
Besides her children she leaves a sister and two brothers. -Mrs. G. L. Hypes and V. C, Faulkner of Athena. W. V.. one half brother and four' half sisters, 25 grandchildren and a host of other relatives. and friends.
In the spring of 1900 the family moved to Rugby, N, Dak. and in November of the same year moved to Cambridge, Kansas where she has lived ever since.
She was baptized and united with the church at the age of 19 years being faithful to the end.
She placed her membership in the Presbyterian church. at this place a few years ago.
She was a devoted wife and mother and loved by all who knew her.
She bore her suffering patiently.
She called her children to her bedside and told them she was willing and ready to go.
Funeral services were conducted. by V. D. Love, minister of the Church of Christ of Winfield. The funeral was held at the Presbyterian church at Cambridge Friday afternoon at two o'clock, May 1, 1931.
Music was furnished by a mixed quartet, Mrs. Annabelle Drown, Mrs. Esther Harlan, Mr. Sam Wright and Mr, Henry Brown with Mrs. Rosebud Higbee at the piano. Thc songs rendered were: Going down the valley, There will be no more disappointment in Heaven, Sweet by any by, Beautiful Isle of somewhere, ln lhe garden and The old rugged cross,
The pallbearers were near neighbors. Roy Harris, Alvin Logsdon, Walter Hillier, Clyde Fisher, Everett Lundy and Earnest Lundy.
The flower girls were all small girls of the community, Martha Jean Logadon, Betty Fisher, Dorothy Fisher, Laurette Tredway and Melba Lundy. The floral offerings were many and beautiful
Bluefield; W Va.
SISTER OF LOCAL WOMAN SUCCUMBS
Mrs. W. S. Hawley Dies At Home In Cambridge, Kansas; Former Miss Marguerite Faulkner, Of Littlesburg
Mrs. G. L. Haypes. 320 Fourth street, received a message yesterday morning telling of the death or her sister. Mrs. W. S. Hawley. which occurred at her home in Cambridge, Kansas
Mrs. Hawley before her marriage was Miss Marguerite Faulkner. of Littlesburg. Mercer county. and was married to Wingfield Hawley. of Littlesburg. forty-eight years ago. To this union was born twelve children. seven sons and five daughters. eleven or who survive. Her husband preceded her to the grave ten years ago.
Mrs. Hawley is also survived by two brothers and one a sister. also one half-brother and five half-sisters. Seven brothers and three sisters preceded her to the grave.
Mrs. Hawley was a Christian mother and devoted wife. and will be greatly missed in the community in which she has spent the last years of her life.