Rufus & Viola Sumner Family
Rufus Samuel Sumner (1894-1974) and Viola Delight (Chambers) Sumner (1887 - 1976) were residents of Cowley County for most of their lives. Rufus was born in Carrol County Virginia to Phillip Wilburn and Alice (Lundy) Sumner who eventually settled in this area. Phillip operated a blacksmith shop in Burden for a number of years.
Viola Chambers was born at Thayer, Nebraska to Robert and Edith (Parker) Chambers. The Chambers family later lived in the Cambridge and Burden area after several years in Arkansas. Rufus and Viola were married March 17, 1915 in Winfield and observed their 61st anniversary in 1976. The couple had ten children; Orin Robert, the oldest, died in 1971; Howard Wilbur, Arkansas City, Nita Alice (Sumner) Wilson, Burden; Rufus Junior, Topeka; Lois Edith (Sumner) Dennett, Winfield; Gene Clyde, Rogers, Arkansas; Aletha Ferne (Sumner) Titus, Mulvane; twins Ray Owen, Moline, and Faye lone (Sumner) Smith, Thayer, and Iris Lucille (Sumner) Howard, Thayer.
For many years Rufus was employed as bridge foreman working out of the Winfield, as well as the Burden County Shops. Many of the concrete bridges he helped build are still in use.
The family lived on the south edge of Winfield for six years during the later 20s. The street leading to Walmart's was on the edge of their property.
The Sumner family were among the victims of the Winfield 1928 flood. Several pieces of furniture were lost or damaged by high water that got in the house. The family spent the night in other homes that night, before going back to the flood damaged home, and the job of cleanup. The family lived later in the Tisdale community and north of Burden.
Feeding a growing family was not an easy matter but Rufus and Viola did it, growing garden produce and home canning and preserving. She knew how to make the most with what little there was.
Viola was a member of the Cowley County Red Cross, giving First Aid classes, and assisting in local disasters. She was among those helping at Udall following the 1955 tornado.
During his retirement years, Rufus worked as a carpenter, from shingling roofs to making small knick-knacks. He built numerous cabinets, closets, etc. Although he never completed his grade school, he understood figures in his work. He was also an avid fisherman, preferring local ponds to creeks.
I, Nita (Sumner) Wilson, am the third from the oldest in the family of ten. None of us were born in a hospital. I was born southwest of Burden, when my father was working for Frank Weigle. I married Percy McCoy Wilson, February 18, 1940. We celebrated our 50th anniversary in 1990. We live six miles south of Burden, on the Herman Wilson family home place. We have a daughter, Martha (Wilson), her husband Larry Kelley, four grandchildren, and one great granddaughter. A son, Robert Wilson died in 1963 at age 19.
Robert "Bert" Wilson family

Winfred (Wesbrook), Mildred (Wesbrook)
Percy, Mary(Shinn), Robert "Bert"
ROBERT "BERT' & MARY WILSON Robert "Bert" Wilson lived in the Eaton community for 85 years. He was born in Bloomington, Ohio June 8, 1876 and moved to Kansas when he was five years old with his parents, Dr. Herman and Lucy Wilson and his siblings.
The Herman Wilsons' purchased a farm in 1881 12 miles east of Winfield in the Eaton community and at this writing March, 2003, the farm is still in the Wilson family.
Dr Wilson died in 1921 and his wife died in 1935. Bert Wilson took over the farm operation.
Bert married Mary Shinn, April 16, 1908 in her parents' rural Cowley County home in the Prairie Ridge community. Bert and Mary were married 58 years. The couple had four children, Robert, who died at a young age from whooping cough complications, Mildred Wilson Wesbrook, who was an elementary teacher for 32 years, Winifred Wilson Wesbrook, and Percy Wilson who currently (2003) resides on the home place with his wife Nita Sumner Wilson.
The Percy Wilsons' observed their 63rd anniversary, Feb. 18, 2003. Percy and Nita had two children, Martha Wilson Kelley, born Jan. 9, 1942, lives in Winfield. Robert, born Oct. 5. 1943, lost his life in a car accident, in 1963 at age 19. Percy and Nita have 4 grandchildren and 6 great grandchildren.
Bert enjoyed the farm life. He graduated in 1904 from K State, Manhattan With a degree In agriculture. He put the knowledge learned back into his farming operation. He farmed with horse power, however later in life his son acquired a tractor. Bert preferred the slower pace of power and left the tractor driving to his son.
In his senior years Bert did not have the desire to retire and move to town. He remained on the farm. Bert died at home June, 2, 1966, a week before his 90th birthday. Mary died in Winfield, August 25th, 1971 at age 89. They are buried in the Prairie Ridge Cemetery, 4 miles west of Dexter.

Dr. Herman and Lucy Wilson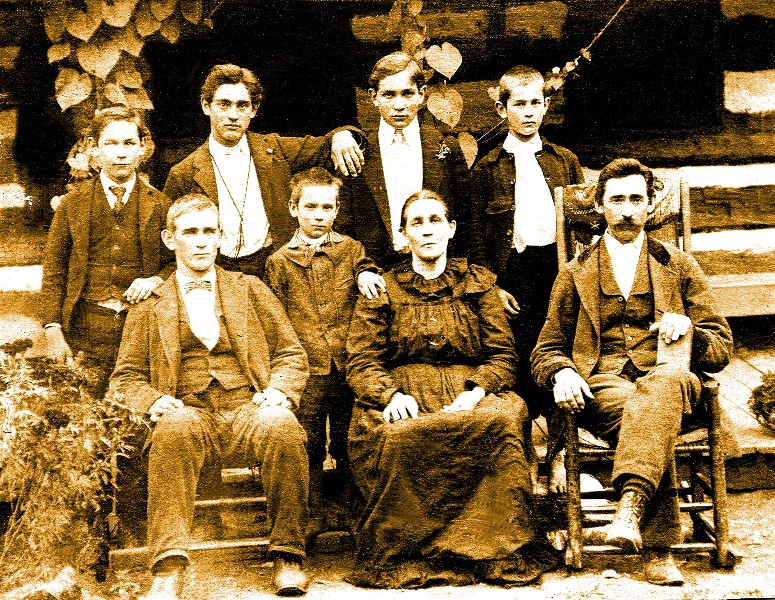 Nita (Sumner) Wilson, granddaughter