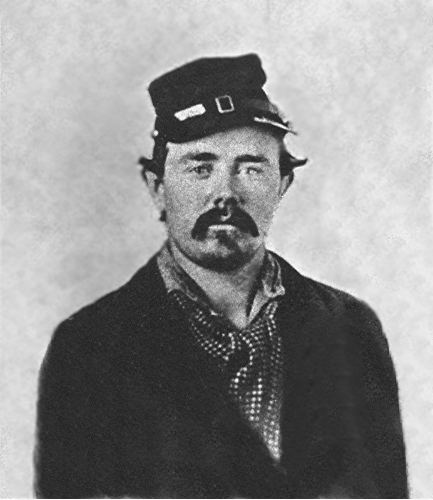 George W. Culp
My grandfathers, George W. Culp, David H. Woods, and my great-grandfather, James Kelly Woods, and their families were among the early settlers to locate on farms near Burden. All of them came from pioneer families who had lived in eastern states but moved to the Midwest as opportunities opened to encourage the western migration.
CULP FAMILY
Grandfather Culp was born in Ohio in 1840. His father, Charles Jacob Culp was born in Pennsylvania, and his mother, Mary McDermott, was born in Ireland. Grandfather also had a sister, Julia.
Grandfather enlisted in the Union Army and served three years in the Civil War. During that time his family had moved to Iowa and he joined them there following the completion of his service.
He married Clarissa Waterhouse in DeWitt, Iowa. She was born in 1848, and was the daughter of Robert Waterhouse (born in New York) and Ann Lee (born in Canada).
They farmed in Iowa and their first three children, Robert Franklin (Frank), Ira Wilford, and Julia Catherine (Kate) were born there.
In 1872 grandfather came to Kansas and homesteaded 160 acres one mile north of the site where later Burden would be located. He built a small cabin and sent for his family. They came to Independence by train with their household possessions and grandfather met them with a covered wagon to take them to their new home.
Life was hard during those first years
-- clearing land to farm, and prairie wildfires a constant threat. Then came the terrible grasshopper years, leaving total devastation. A new baby had been born, Charles Jacob, so there were now four children. Grandfather had heard that gold had been found in the Dakotas, so with nothing to lose and a growing family to support, he decided to go there and try to earn some money. He left his family in the care of his neighbors, the Fitzgerald's who came with them from Iowa.
Grandfather was gone a long time and grandmother was worried that something had happened to him. She decided to take the children and go
back to her parents home in Iowa. Sometime later grandfather came to join his family there, and apparently they stayed for some time. A
fifth child, Louis Leon, was born there in 1878.
Later the family returned to their farm in Kansas and grandfather built the two-story house, which would be the Culp family home for nearly 70 years. The last two children were born following their return from Iowa. Eva Ann was born in 1882 and died in 1884. Grandfather donated land for the Burden cemetery and their small daughter was buried there. Their youngest child, Lillian Annabelle (my mother), was born in 1888.
A schoolhouse had been built on the Culp farm and served as the location of the first classes and services of the Methodist Church. Later they would build their church in Burden.
Two of grandfather's sons carried on the tradition of pioneering by making the Cherokee Strip Run in 1893. Frank and Ira Culp claimed their farms in Oklahoma Territory where they raised their families and lived the rest of their lives.
My mother, Annabelle, remembered making the trip with her family in a covered wagon to visit her brothers in Oklahoma. She was a small girl at the time. I mention this because she lived to see Neil Armstrong take the first step on the moon
- quite a remarkable lifetime of changes.
In later years my grandfather and grandmother were buried beside their small daughter. Daughter Kate (never married), son Louis and wife Gertrude, and daughter Annabelle and husband John were also buried in the same lot on land grandfather had homesteaded.
DENNIS & MARY
CATHERINE CUNNINGHAM FAMILY
My grandmother Culp's youngest sister, Mary Catherine (Kate), and her husband, Dennis (Den) were also among the early settlers. Den ran a hardware store in Burden for a number of years. Their family included six children who were all born in Burden. They were Ray, Lavere, Nina, Neva, Orner, and Mary Catherine. All of this family is buried in their family lot in the Burden cemetery.
WOODS FAMILY
My great-grandfather, James Kelly Woods, was born in Ohio in 1816. His father, William, was born in Vermont; his mother, Patsy Kelly, was born in Virginia. His family included a brother and three sisters.
Later the family moved to Indiana where he grew up. He married Sarah Hartman in 1848. Her father (David Hartman) and her mother came from Pennsylvania.
About 1851 my great-grandparents moved to Iowa with their two small children, Martha and David. In 1883 the family moved to Kansas where they bought their farm located three and a half miles northeast of Burden. There were now ten children in the family; Martha (Matt), David (My grandfather), Mary, Retta, Matilda, Alpheus (Alf), Cora, Fannie, James Kelly Jr., and Harry. Martha (Matt Pierce), David, Retta, Alf, Fannie, and Harry all made their homes in Burden and Winfield.
Eventually my great-grandparents and eight of their ten children were buried in the family lot in the Burden cemetery.
David, the oldest son of James Kelly Woods, was married to Ella Ballinger in 1875 in Mahaska County, Iowa. Her parents were Thomas Ballinger (born in Ohio, and Lydia Hildreth (born in Vermont. My grandparents, David and Ella, also came to Kansas in 1883 with three small children, Nina, Bess, and John (my father).
They located on a farm north and west of Burden. Dorothy (Dott), Ben, Mabel, Ruth, and James were born here.
JOHN WOODS FAMILY - Descendants of early settlers.
My father, John, married Annabelle Culp in 1914. Their children, all born on farms near Burden, Nina, Kelly, Tom, Bob, and me (Margaret). All five of us attended school in Burden where our mother also had gone to school. She graduated in 1905. Four of us also graduated from Burden High School, and our brother, Kelly, graduated from Winfield High School.
My parents bought our home in Burden in 1935 and it was the Woods family home for over 50 years.